Maximize Your Energy Savings All Year-Round
Reducing energy loss is often the number one reason for purchasing replacement windows. Windows are roughly 80% glass, so it's important to choose the ideal glass system for your home and climate. Upgrading to a high-performance insulated glass package with Low-E glass will help further increase year-round energy savings.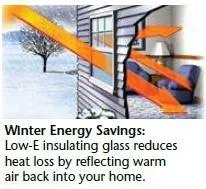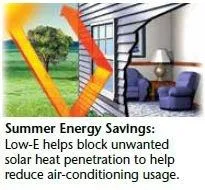 Low-E (low-emissivity) glass features a virtually clear metallic coating that allows warm solar rays to penetrate your home in the winter to help reduce heating costs. In summer, Low-E glass helps block solar heat to keep your home cooler and reduce air-conditioning usage. Low-E also helps minimize UV rays that can cause furnishings to fade.
Clearwater offers two families of high-performance insulated glass packages:
ClimaTech® combines insulating Low-E glass, argon gas and the Intercept® Warm-Edge Spacer System that features a unique, one-piece metal alloy, U-channel design that creates an effective thermal barrier.
ClimaTech ThermD features insulating Low-E glass, argon gas and a stainless steel Intercept Warm-Edge Spacer System for even greater thermal efficiency.
Clearwater recommends ClimaTech ThermD for the most energy savings. The spacer system in your window not only stabilizes the panes of glass, it also plays a key role in the window's structural integrity. ClimaTech ThermD's Intercept spacer advances performance to the highest level through its stainless steel alloy and patented U-shaped design. Stainless steel – known for its unsurpassed strength, durability and resistance to corrosion – is also impervious to gas transmission, which improves insulating gas retention in the window unit and increases its overall thermal performance. The stainless steel spacer also incorporates flex for low stress on the sealant bond to offset effects of temperature changes and help to prevent seal failure.
Need answers to your window replacement questions?